It's Competition Time again!
And not just yer regular DED Caption Comp either, but a proper one! With a proper prize, and a closing date and everything, woohoo! I can feel your excitement as you read this, so without further ado, I present the Mug Shot Competition!
First, a bit about. Over the last week, I have been
blackmailing
politely asking some fellow Bloggers to send me a photo of their favourite coffee mug/tea cup/drinking vessel. Your task, is to match the Mug Shot to the Blogger.
You have a week in which to do so. The closing date for entries is February 2nd, '06, so you've got loads of time. BTW, There are a couple in there that you really should get right. If you don't, I shall laugh and point ;)
So, go have a look, and when you think you've got them all matched up,
email me your answers
.
Ready? Steady... GO!
The Mugs.
A) A rather understated mug, but I think there's loads of interesting stuff in it.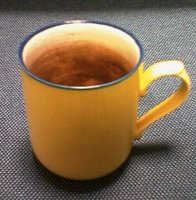 B) A nice, bright mug, but the owner looks as if they might be a bit apathetic about cleaning it.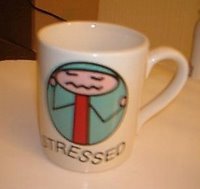 C) The writing on the mug just about says it all here I reckon, but I think there's a bit of a haunted feel to this blogger as well.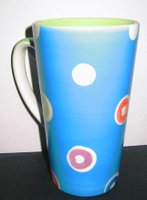 D) Very glamorous and chic, yet at the same time interesting and practical.
E) Two mugs. Both next to a keyboard. I reckon this blogger writes loads, and possibly needs to get out a bit more...
F) If you don't get this one right, you deserve to be dragged off and shot.
G) Staunch views, staunch bloke. Nuff said.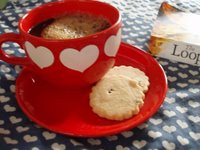 H) Hmm. Mug's made in Germany, yet the biscuits are English...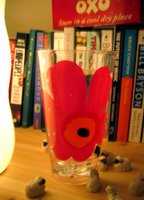 I) Ooh, not a mug here, but a water vessel. Obviously got a big interest in literature as well. And sheep.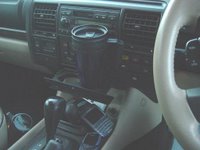 J) A practical mug in an SUV. Nuff said.
K) Aha! Obviously a Scaryduck fan, but the mugs are a tad on the 'everyday' side.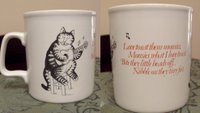 L) OK, the kitty on this one looks cute enough, but after reading the words, I think the blogger may have issues with 'hidden anger'.
M) And if you don't get this one correct, you deserve to be dragged off and bitten...
The Blogs
Little Red Boat
.
Free Market Fairy Tales
.
The Rather Mundane World of the Rikaitch
.
Tomorrow Could be Boring
.
Quin Parker.Com
.
Small dog, big city
.
An Englishman's Castle
.
Random Burblings
.
Scaryduck
.
The Wrath of Dawn.
Momentary lapses of insanity
.
The Random Think
.
Diamond Geezer
.
Closing date 2/2/06. In the event of a tie, prize will be determined by the 'first one out of the hat' method.